Menus for the month of December have now been posted to the website.

As a reminder so that necessary arrangements can be made, Vermilion Parish School System will be closed on Monday, November 7th and Tuesday, November 8th for Fall Break and Election Day. In addition, the Thanksgiving Break is just around the corner. Schools and central office will be closed on November 21st through November 25th.

Monday is the official state mandated parent/teacher conference day for Vermilion Parish schools. Students do not have school. Specific details on the schedule of your child's school should have been given out by the individual school.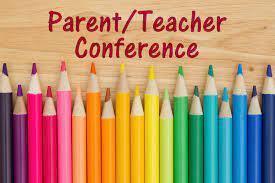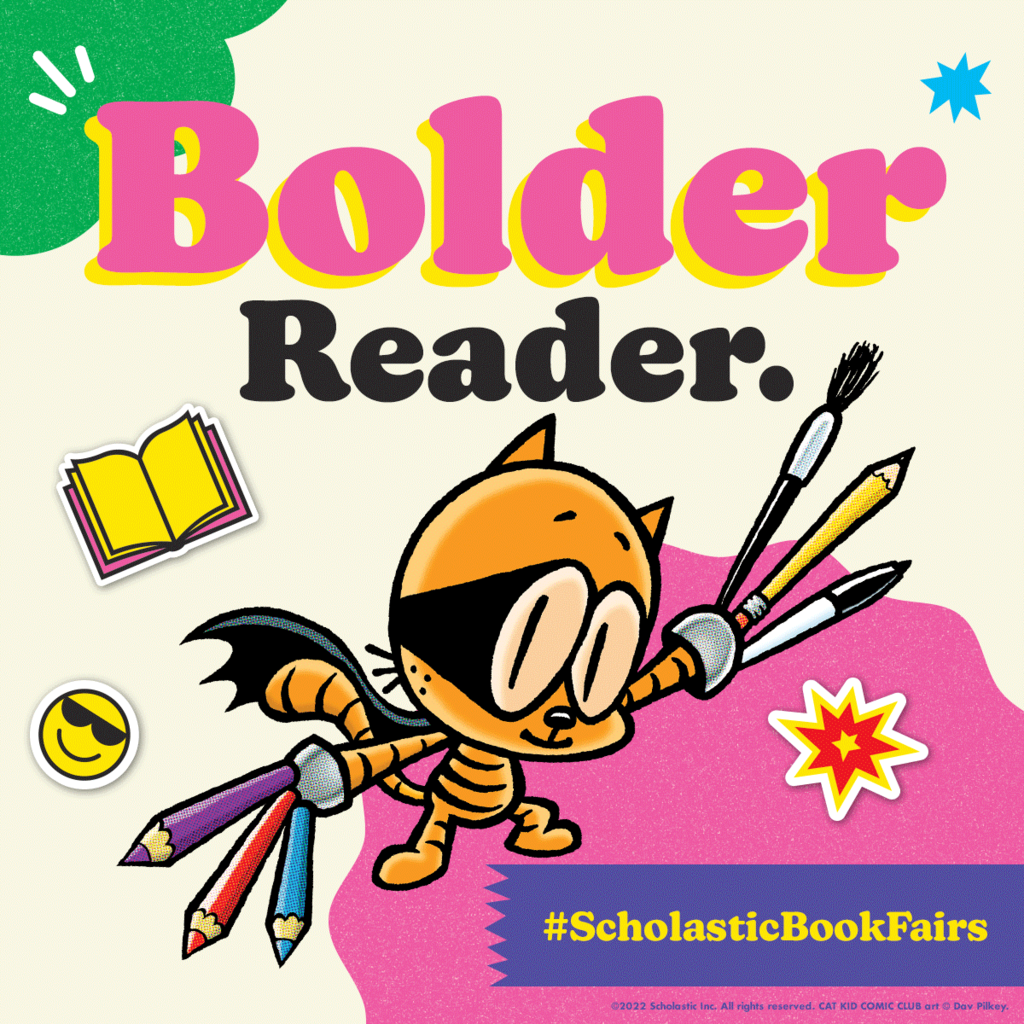 Tomorrow is the beginning of the second nine weeks of school. Report Cards are set to go home on Friday, October 21st. Parent Teacher Conferences will be held on Monday, October 24th.

Reminders: October Menus now posted on the Menus Button of Webpages. Quarter 2 Virtual Vermilion Registration for grades 6-12 opens Monday for those who qualify. K-3 Virtual Day #1 is Monday, October 3rd. See Picture for more info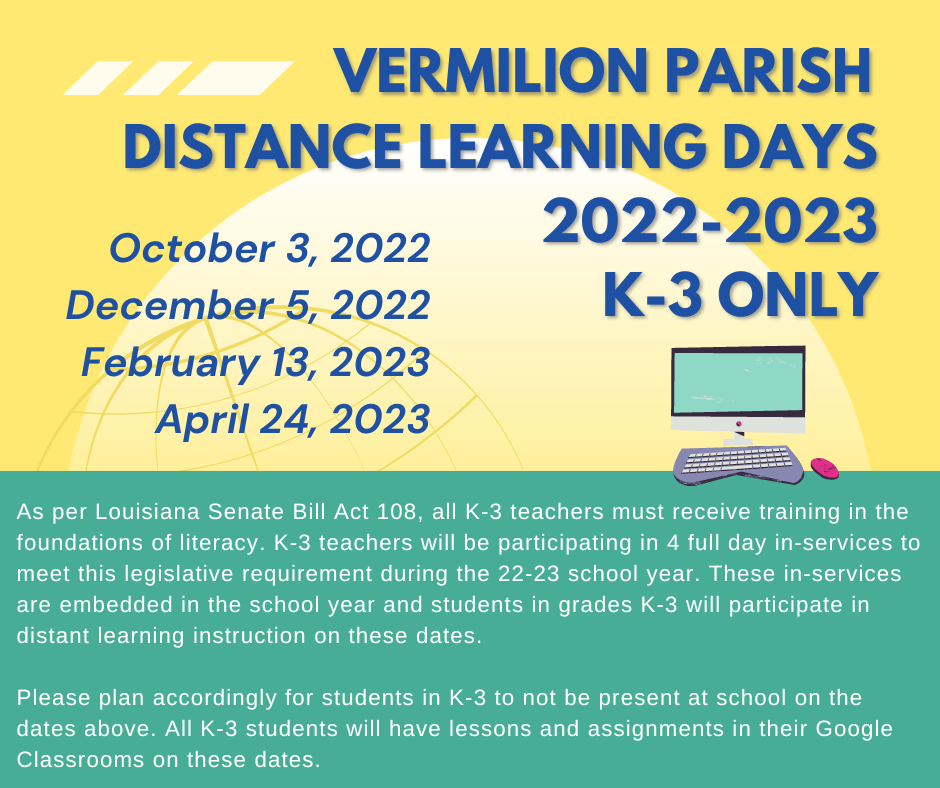 Menus for the month of September can now be found on the VPSS Websites.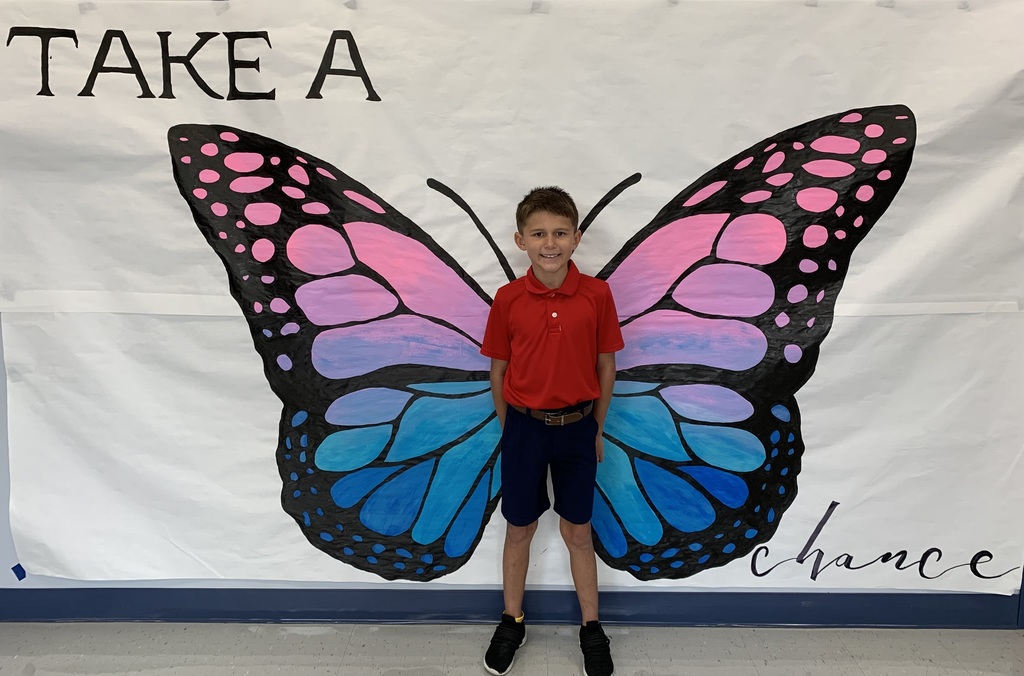 The link to August menus is now available on the vpsb.net homepage. Click the August Menus button.

The link to the August VPSS Menus are now available. Go to vpsb.net and click August Menus on the home page. The link is also listed below. /o/vpsd/page/breakfast-and-lunch-menus

The VPSS Bus Routes as of Tuesday are located on the Homepage of the website. Click the Bus Routes button for information.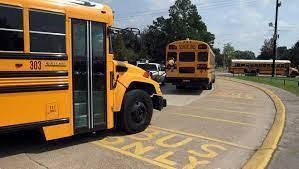 NOTE: PreK orientation will be held after meet and greet on Monday, August 8, 2022 at 6:00 pm.

We only have 4 SEATS left for PRE-K at Seventh Ward Elementary School!!!!! We are still taking registration for these seats! Share to someone you know who lives in the South of Abbeville and Perry area and would like to have their child enrolled in school this year! Children must be 4 years old. Contact us today to get all the paperwork filled out!
www.vermilionchildhoodnetwork.com
📞 337-898-5750 Vermilion Parish School System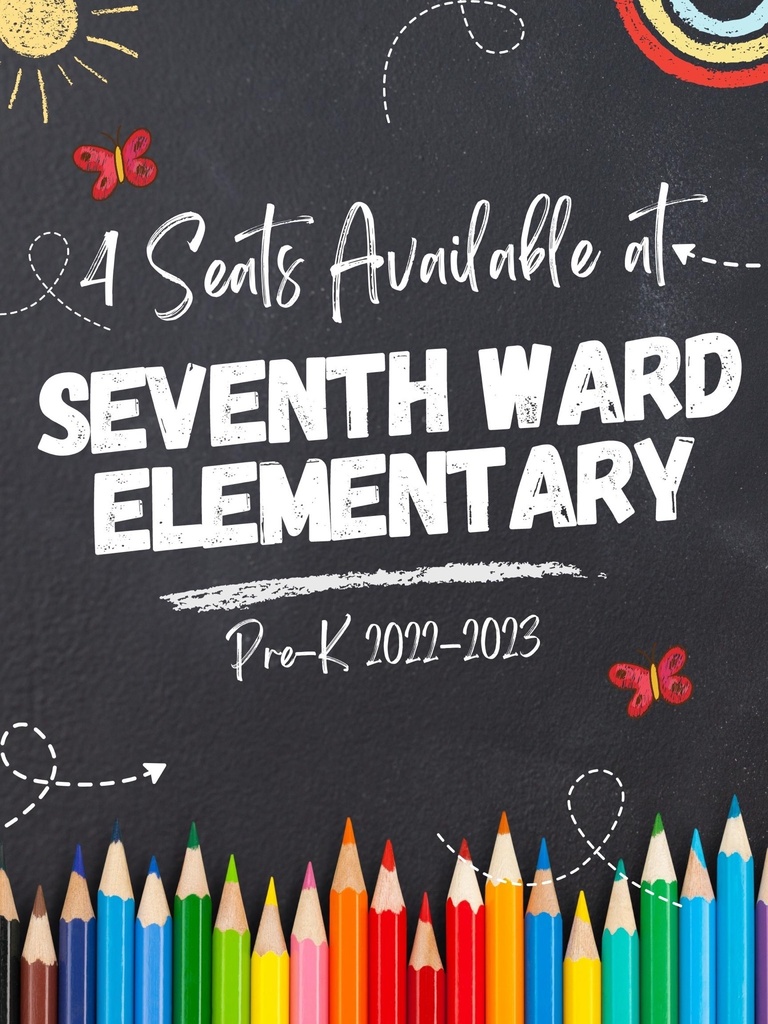 REMINDER TO ALL PARENTS, GUARDIANS, and STUDENTS. We are still adding information under our menu bar. This is an important part of our website! We have all our Important News for 2022-2023 under our Menu Bar on the school website. Go to the main page and look at the TOP of the page and then click "Menu". It will bring you to the section with all updates, documents, etc. (At this time, not all documents are in place now. Keep checking back!)
https://swe.vpsb.net/o/swe


Seventh Ward Elementary 2022-2023 Fall News and Links NOTE: All items below and more are in the Parent Corner under the "Menu" bar at the top right corner on the main page. SWE Meet and Greet August 8, 2022 From 5:30 pm to 6:30 pm 2022-2023 School Supply Lists
https://vermilionparishla.sites.thrillshare.com/o/swe/page/2022-2023-school-supply-lists
Important 1st Days News • PreK & K Screening - August 11th & 12th, 15th (Parents will be notified) • PreK & K Orientation - August 11th (Parents will be notified) • First Day of School for 1st grade and above- August 11th • First Day of School for PreK & K Girls - August 16th • First Day of School for PreK & K Boys - August 17th • All PreK & K attend - August 18th

Results from the LEAP exams for students in grades 3-8 are now posted on the parent command center for your child. It could take some time to get all uploaded, but it should be there in the next day or two. If not please reach out to the school at which your child tested.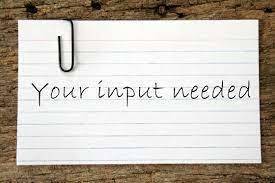 Central Office will be closed on Monday in observance of the 4th of July. Offices will reopen on Tuesday, July 5th at 7:30.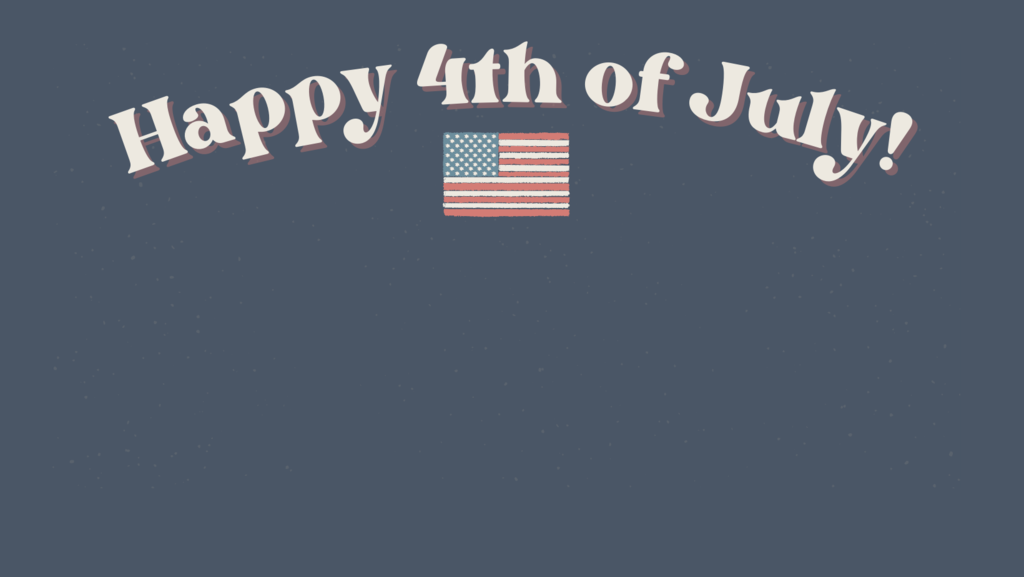 The pupil progression plan can be accessed for review by clicking the link below.
https://5il.co/1d4dn
Trying a different way so that phone access and app access are available. I hope it works